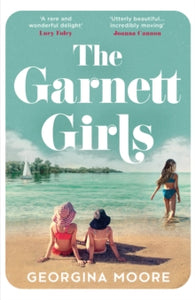 Fabulous Forbidden, passionate and all-encompassing, Margo and Richard's love affair was the stuff of legend- but, ultimately, doomed. When Richard walked out, Margo locked herself away, leaving her three daughters, Rachel, Imogen and Sasha, to run wild.
Years later, charismatic Margo entertains lovers and friends in her cottage on the Isle of Wight, refusing to ever speak of Richard and her painful past. But her silence is keeping each of the Garnett girls from finding true happiness. Rachel is desperate to return to London, but is held hostage by responsibility for Sandcove, their beloved but crumbling family home.
Dreamy Imogen feels the pressure to marry her kind, considerate fiance, even when life is taking an unexpected turn. And wild, passionate Sasha, trapped between her fractured family and controlling husband, is weighed down by a secret that could shake the family to its core... The Garnett Girls, the captivating debut from Georgina Moore, asks whether children can ever be free of the mistakes of their parents.